SmartSteem Secrets
If you have not seen this post about Smartsteem, you are definitely not using Steemit.com to the fullest for your blogging potential. Read more below from an article I wrote previously on
Steemit
.
I have started using services by smartsteem and overall very satisfied. Smartsteem provides 4 main services which I think are useful for everyone in the Steemit community.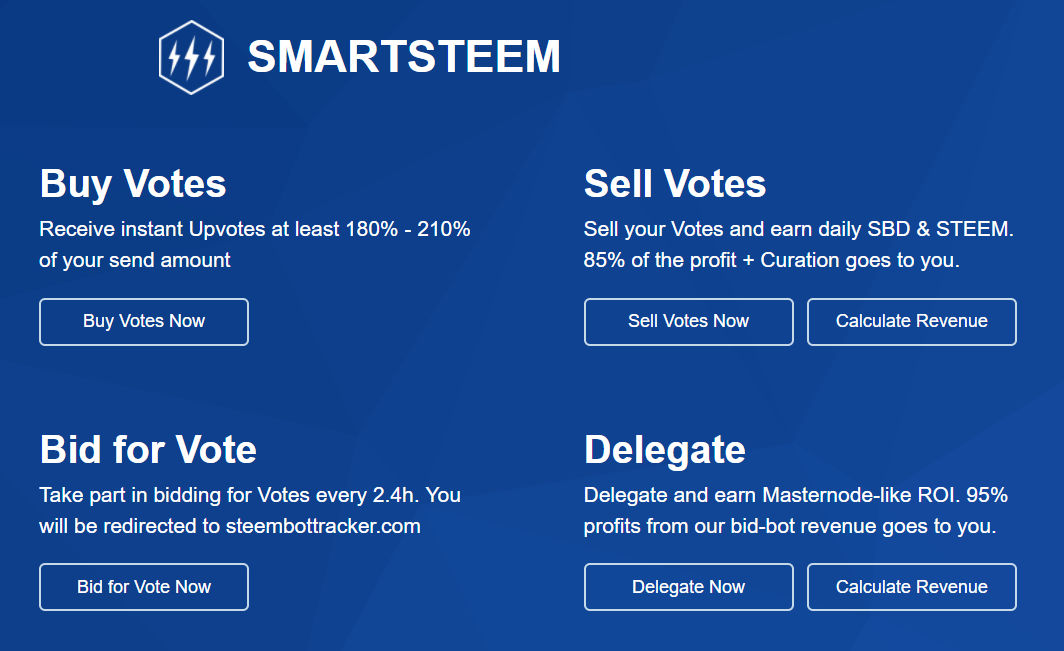 To gain more visibility for your posts, buying votes can be quite beneficial. Simply send 0.100 - 1 SBD to
@smartmarket
with your post's URL to get it upvoted. You might be thinking why spend money upvoting your own post?
Firstly, it helps give your post more visibility. You want more people to see your posts and the value your post is, the more likely someone will notice it. You may not have noticed, but people who are selling their upvotes to vote your article will notice your article too. If your post has an interesting title, they might actually read it and start following you.
Secondly, you get 1.8x - 2.1x the author rewards than just keeping your SBD in your wallet. I have personally seen this guaranteed return although the actual value may drop due to SBD price and the rewards pool size at the end of 7 days (read my
previous post
for more information on the rewards pool in the STEEM bluepaper).
Lastly, you also gain reputation! It encourages you to write more original content and boost the Steemit community with diversified topics added to the Steemit blockchain. In the process, get more comments from readers who really appreciate your contributions :)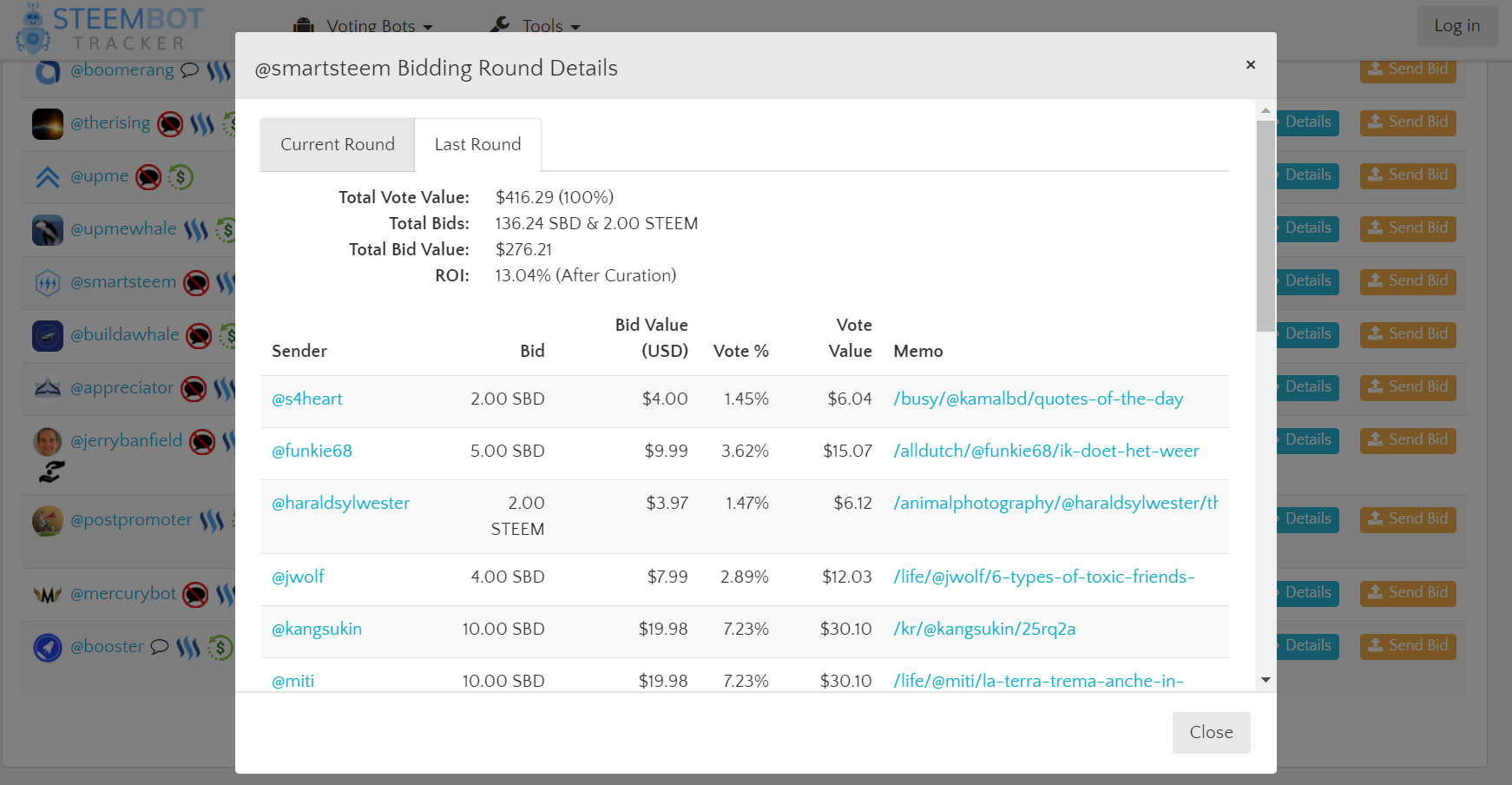 https://steembottracker.com/
An alternative way to get upvotes is to bid for upvotes that are given out every 2.4 hours based on the
@smartsteem
bid-bot. Send 2.0 or more STEEM/SBD to
@smartsteem
to get a fraction of the upvote given out in the next 2.4 hours. Use
steembottracker.com
to check how many voters are there currently voting.
Selling votes is a
MUST
. Because we are never physically here upvoting when our voting power reaches 100%. Yikes! Use the auto upvote services of smartsteem to make sure that you continue to earn curation rewards when you are on vacation or sleeping at night.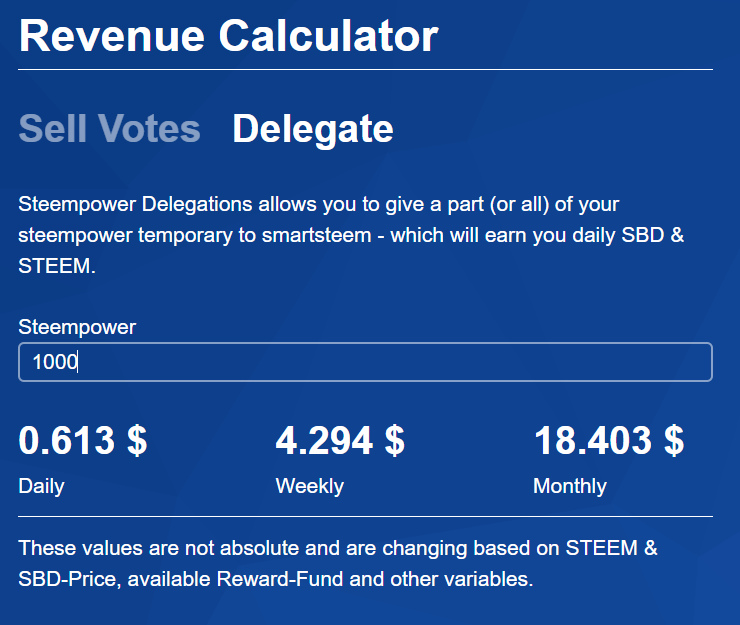 4. Delegate Steem Power SP
I currently know
@minnowbooster
and
@smartsteem
to be the only places where you can delegate your Steem Power. It is a good way to help the Steemit community by delegating some of your SP out to
@smartsteem
as up to 95% of their profits come back returned to you. As a delegator, I am proud to be part of
@smartsteem
community.
I am currently on the waiting list to be whitelisted
fingers-crossed
by
@smartsteem
as they are providing author reviews that produce quality content. I don't think I will get a 3-star rating, but would be honoured to get whitelisted. Being on the whitelist also allows the smartsteem bot to recognize you as an original content creator and not a spammer / listed on their blacklist. I really appreciate their
team of reviewers
doing us this service.
If you have not signed up on
smartsteem
, please do so by clicking on the banner. While I thank you now for letting me become your referrer, you can thank me later after using smartsteem services. Good luck!
- tylser